Gerard and Francine strive to implement sustainable, eco-friendly tourism with a sensitive ecological approach to the local, Nosy Be culture in diversity, abundance, and natural beauty
The hotel, Gerard and Francine, is a petite, welcoming, family-oriented and operated structure and Gerard and Francine are conscious of the destructive and ecologically troublesome practices that often correspond with so many styles of tourism services these days. Here we work to offer a humane, comfortable, guilt-free experience for our guests. Gerard and Francine have, for more than 20 years, been agents for the environment and protections from pollution to the island. For your benefit, travelers and locals in Nosy Be, Gerard and Francine argue for the respect of the environment and the locals are guaranteed sustainable and integrated tourism practices. We make all of our tasks for you comfort without many bothers to the environment and local people. Madagascar, its ecosystem, its population, its culture and everything is simply extraordinary. The natural beauty lasts throughout each day in many ways. However, during the past thirty years, Gerard and Francine have noted a startling degradation to the environment and lives of everyone. The cultural values and sacred traditions and locations are ridiculed and natural forests and habitats are being pillaged.
Gerard and Francine are advocates against sexual tourism and urge our guests keep their dignity and that of the lovely, local peoples in mind. We do not tolerate sexual tourism/prostitution violations here. .
Gerard and Francine are disgusted by the recent development of sexual tourism and the part that so many irresponsible Europeans are playing. Furthermore, a small cultural note, the local population does not accept the assimilation of prostitution. They attach to it a degrading image and a great loss of respect for those who choose to partake in these sad practices. They believe they have the right to correct this image, but are conflicted because of the opportunities often afforded to those willing to work this way. The model vehicle for sexual tourism is scholarly absenteeism that plagues many young girls. The encouraged attendees here are foreigners working or studying, of course we also encourage all travelers that are interested in enjoying the beauties and wonders of Madagascar. We only hope to share our negative opinion of any potential low status tourists that are traveling with sexual motivations as that behavior attracts a certain kind of crime and negative image to our hotel and nearby sites. Beyond these social problems, sexual tourism is disrespectful towards the tenants and employees of our establishment. We urge our guests to be aware of one another and the real potential that many people may be hoping to wake early for work, fishing, diving and scuba excursions. We like to keep a tranquil, calm atmosphere at our beachfront hotel. Finally, what about the show given to young children in the evenings watching television in the bar where their big sisters converse politely with hoary old men whose wisdom seems so rewarding. These children, will they have a future? In general, the sexual tourism demonstrates a huge lack of respect and, in conscience, many travelers do not want to condone such practices by their very presence and hesitate to come to Nosy Be. Gerard and Francine resist these aggressions by all means and in any case is not tolerated in their hotel.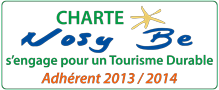 Gerard and Francine, is proud to have been selected to join the charter," Nosy Be s'engage pour un tourism durable" (Nosy Be, committed to sustainable toursim), and continues to strive for preservation and natural and social equilibrium in Nosy Be.
Gerard and Francine stand for and have applied the charter for the last 20 years::
Environment
Minimize the impacts on the environment :
Utilization of solar, water heating since 1988 at our hotel.
Systematic utilization of low-energy light bulbs.
No swimming pool as not to waste water. No air conditioning nor television, but the Indian Ocean, the nature, the birds, and the lemurs are easily enjoyed here.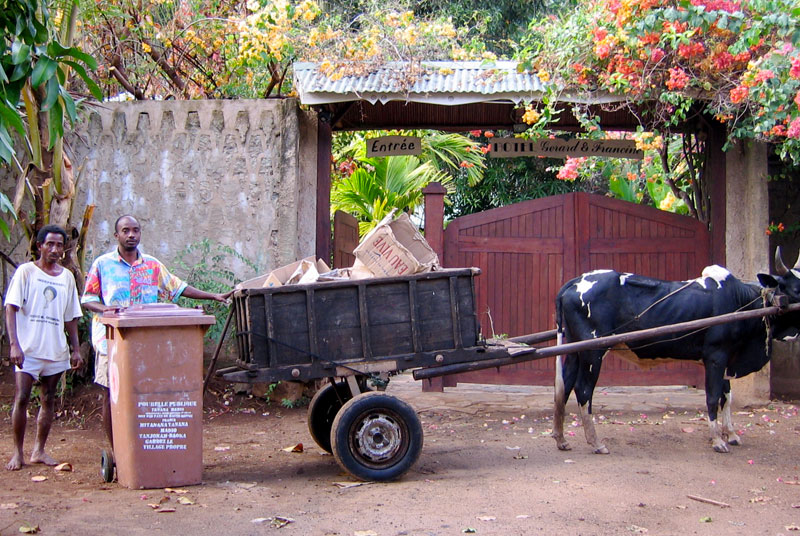 In 1995, Gerard and Francine found that the irresponsible development of tourism here endangered and drastically polluted the local environment and created the association "Tanana Madio" which means "Clean Village." For the last 16 years the association assures the villages of Ambatoloaka, Madirokely, and Dar es-Salam, to be cleaned through the use of bull-drawn carts. Tanana Madio actually manages the waste of 4800 people, 2500 of which are youth under the age of 18 years. The team of Tanana Madio cleans the roads, the beaches, and the neighborhoods of Ambatoloaka, Madirokely and Dar es-Salam. Tanana Madio has 90 trash bins for use by the villagers and a site of transfer of solid waste was built in collabortation with the GIZ (a German corporation). The wastes are sorted and the residues are transferred to the site in Ambalamanga. The system of pre-collection functions before each day with the bull-drawn carts, it is autonomous and sustainable. Tanana Madio regularly treats the canals of evacuated rain water. We try to prevent any need for illegal dumping, Tanana Madio protects the health of children against insects, cholera, and leprosy. In cleaning the roads and the beaches, Tanana Madio works to attract tourists especially as this is the economic activity remaining in Nosy Be. Tanana Madio manages and maintains public toilets made freely available to the public and plans to create several others. By creating and maintaining these public toilets Tanana Madio hopes to eradicate the practice of defecation in the free air, on the beach, and is also fighting in action with UNICE.