Activities and excursions are offered in Nosy Be and the many neighboring islands, we at Hotel Gerard et Francine can help to schedule these exciting outings
To discover Nosy Be you can begin at the Hotel Gerard et Francine. You can observe groups of Macaco lemurs in a free space with mango trees, corosol, coconut trees, and palms. We have many kinds of lizards, chamelions, and other creatures that you may be excited and at times overwhelmed to see as they are so diverse a collection in the superb, tropical garden. Finally, the charming behavior of the multitude of birds will encompass you in this nook and refuge where they regularly organize a concert.
Nosy Be is in the northwest coast of Madagascar, it is an urban commune (65000 pop.) and it is a part of the DIANA region which includes Diego, Ambilobe, Ambanja, and Nosy Be. The island is originally volcanic which affords the island twelve crater lakes. The island is surrounded by an archipelago of islands (Nosy) and these are literally covered, with coral reefs. The grace of the geographic situation is a tropical, warm climate (hot and rainy in November to April and less hot and dry from May to October), there are many rich minerals and the beauty of the ecosystem and the beaches makes Nosy Be a wonderful location for tourism.
The local population is made entirely of those hoping to serve and please you, the Hotel Gerard et Francine select friends, local Malagasy, independent, serious, professional entrepreneurs to guide and assist you..
On the sea, Tintin takes care of your boating excursions, wherever you wish to go we can propose an excursion to explore the environments of the other islands (Nosy Komba, Tany kely, Nosy Iranja, Sakatia). If you like to, you can go fishing or underwater hunting, diving with spears to catch fish..
On the island of Nosy Be, we work exclusively with four taxi drivers chosen for their honesty, their sobriety, and their kindness and wisdom of Nosy Be.
Excursions on the sea for the day are organized by Tintin
Transport and food are included (with a bottle of mineral water)
Nosy Tanikely

(marine reserve)
Prix : 25 €

Nosy Komba

(lemur reserve)
Prix : 25 €

Nosy Komba et Tanikely

(lemur reserve + marine reserve)
Prix : 30 €

Nosy Iranja

(Turtle Island)
Prix : 35 €

Nosy Sakatia

(Orchid Island)
Prix : 25 €

Nosy Fanihy

(Bat Island)
Prix : 30 €

La Baies des Russes

(on the mainland)
Prix : 30 €
The prices listed for the excursions are per person and sometimes prices can vary depending on the style of boat taken or the number of people in your party.
---
A day of fishing can be organized by Tintin

Transport, materials, and sandwich included (with a bottle of mineral water)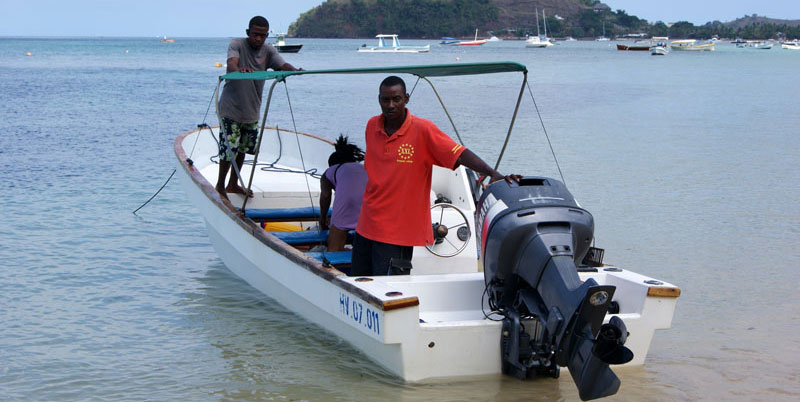 Line fishing or with a Reel

(the boat, up to 8 people)
Price : 250 €/jour

Dive-fishing

(the boat, up to 8 people)
Price : 150 €/jou/jour
Other fishing day options
Diving with spears, in a pirogue with a motor and a trip with Jean-Yves, jean-yves-pecheur-nosybe-pan excellent Malagasy diver in Ambatoloaka: Price: 30 Euros per person and per day (up to four passengers, returning at 1 pm).
Fishing in the Palangrotte with Bejean or another traditional fisherman from Ambatoloaka, in a pirogue, sailboat, or paddle boat :
The price can vary around 25 Euros (more or less) per person, per day (no more than two people, returning at 1 pm)..
---
Nearby Activities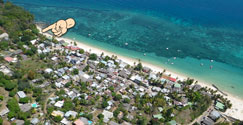 In front of the Hotel Gerard et Francine, within 50m of the shore there is wonderful areas of coral reef until the pass at Madirokely (the opposite end of the beach): Snorkeling (flippers, mask, and snorkel).
Day excursions around the island
We recommend that you visit the Reserve de Lokobe
(a primary forest, lemurs, and other endemic plants and animals can be found in abundance): 20 Euros for the inclusive visit, and 15 Euros for the taxi (from the Hotel Gerard et Francine and back).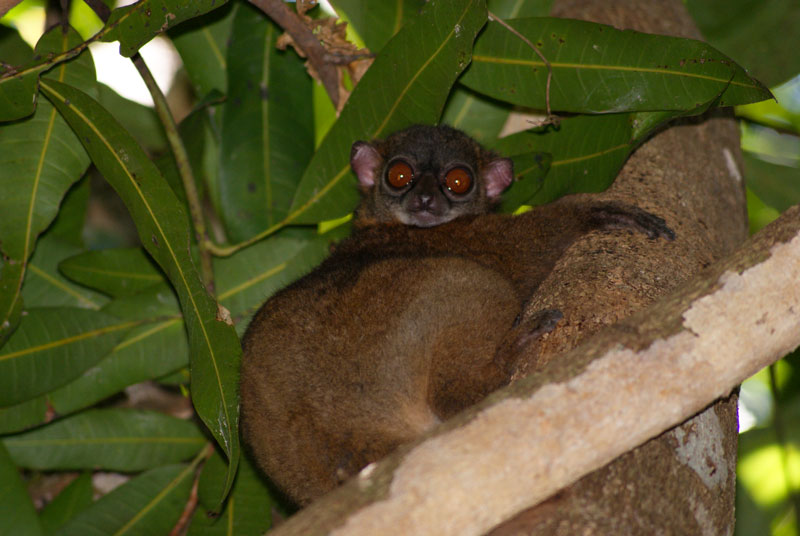 IIt is a 30 minute drive from our hotel to the village Ambatozavavy, from there you are taken on a 35 minute pirogue (wooden boat) along the coast to the village of Ampasipohy. In journeying through the village to get to the reserve you get the opportunity to admire the superb local artisans and their work. During a small, one hour walk, you plunge into the protected ecosystem of the reserve with your knowledgeable guide. You will see growing peppers, ginger, palms and other endemic plants as well as chameleons, non-threatening snakes, and the Macaco Lemur found also at our hotel along with the Microsèbe Lemur, and a multitude of original insects.